Drinking lots of water is one of the best skin treatments. Water purifies your skin, but than, your water should be pure …
To reduce toxification of your body, for overall purification and perfect skin, it is best to drink filtered water. WaterBobble makes this possible with their Bobble; a water bottle with a charcoal filter in it that purifies water on the go.
The Bobble reduces odour, chlorine and organic contaminants from regular tap water. Furthermore, the Bobble is BPA Free (hurray!), FDA approved and made in the USA. It's refillable, reusable, can be put in the dishwasher (only the newest Bobble Sport 24/7) and can be recycled. The colors the Bobble comes in: A treat for your skin!
I bought mine (the newest Bobble Sport 24/7 ) online at Vitaminstore.nl (Dutch website for health products), but you can also buy the previous type (which can not be put in the dishwasher!) online at Amazon
.com.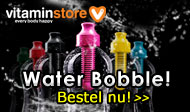 Bobble also has a jug
($ 28.99), which is great to have at home, making it easy to keep an eye on the amount you drink on a daily base 😉